Cardio Classes at Ultimate Fitness by Yatska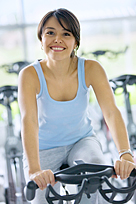 At Ultimate Fitness by Yatska, your cardio classes will be led in a safe environment to successfully attain your realistic fitness goals and maintain the optimal overall health and wellness that you desire.
The three stages of a cardiovascular class will include a warm-up, workout and cool down, including some light stretching. Yatska will guide your class through these steps monitoring time, heart rate and comfort levels. Yatska will be there to motivate you the entire way!
For information on how you can achieve a higher level of cardiovascular health and have more endurance, including BEMER therapy, please call 407-782-9171.