About Yatska & Her Studio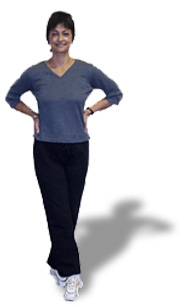 Meet Yatska Aldarondo
With 20 years as an independent fitness trainer and consultant, she is known for her ability to turn "couch potatoes" from fat to firm. Working with Yatska is fun and challenging as she pushes you beyond boundaries that you might conceive to be impossible and to conquer even greater challenges. Looking at her background will show you why Yatska is a great partner to choose to meet your personal fitness goals. In addition, to having a Master's Degree in Sports Science, she has participated in several sports teams throughout the United States and Puerto Rico. She has been awarded several significant athletic honors including 1979 NCAA Basketball Final Four. She has also participated in Major International tournaments like the 1975 and 1979 Pan American Games. Looking at these honors demonstrates Yatska's great athletic background and her ability to work with people.
Education
Master of Sports Science in Fitness Management and Strength Condition, United States Sports Academy, Daphne, Alabama, 1989
Bachelor of Arts in Physical Education, University of Puerto Rico, Mayaguez, Puerto Rico, 1983
Certificate of Completion, Biomechanics Research Seminar, U.S. Sports Academy, 1991
Experience
Twenty Years of Experience as an Independent Fitness Trainer
Staff Trainer at Powerhouse Gym, Gold's Health and Fitness Center, Body Systems throughout Orlando
Certified Pilates Teacher by The Pilates Institute of America
Active Member of the Hispanic Chamber of Commerce
Instructor and Coordinator of Intramural Programs, University of Puerto Rico
Volleyball Instructor, Rollins College
Volleyball Coach of the Central Florida Volleyball Club, 2005 Florida Champions
Professional Associations
Certificate in Post Rehabilitation Coordination, American Academy of Health and Fitness, October, 1997
International Association of fitness Professionals (IDEA)
Biomechanical Research Seminar, 1988.
Recognition and Awards
Inducted into the Puerto Rico Basketball Hall of Fame, August 2009
Table Tennis Intramural Champion (LAI) Puerto Rican Intercollegiate Competition 1991
Varsity Letter - Basketball & Softball, December 1983
All American in Basketball, Volleyball, Track & Field, Softball, Alliance Athletic High School of Puerto Rico, 1972-1978
Rookie of the Year; Most Valuable Player, Female Basketball Superior League of Puerto Rico, 1977
Best Female Basketball Player, Olympic Committee of Puerto Rico, 1976
Most Valuable Junior Player, Central American Basketball Tournament, 1976
Rookie of the Year, Puerto Rico Federation of Volleyball, 1975