Pilates Classes at Ultimate Fitness by Yatska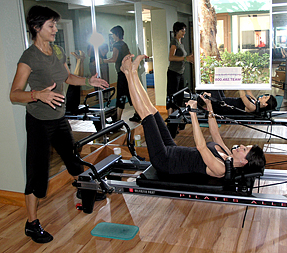 Pilates is a series of exercises designed to improve flexibility and strength through a variety of stretching and balancing movements. Pilates can be exhausting. Sometimes it makes life simple if we describe the results of the program rather than what you have to do to get those results.
So, here is what Pilates can do for you:
flatten your stomach
tighten your buttocks and thighs
alignment - make you taller
help you sleep better
improve bone density
improve cholesterol levels and blood pressure readings
tone and tighten every muscle in the body from the inside out so you can get really strong without adding bulk
improves flexibility
relieves stress and anxiety and
IMPROVES YOUR SEX LIFE!!